Other Health Specific Information
Telehealth Information
---
Family Advocate Telehealth Training

This is a link to a telehealth training course for family advocates and others who work with families.  This course will give you a foundation of knowledge about telehealth and where to find resources that families can use to connect to services by telehealth.
https://www.familytelehealthtraining.org/
This project is a collaboration of the Western States Family to Family Health Information Centers and Public Health Maternal and Child Health Programs, Western States Regional Genetics Network, and Pacific Basin Telehealth Resource Center.
---
What to expect from a Telehealth Visit:
What to Expect From a Telehealth Visit (Youtube Video Link)

Qué esperar de una visita de telesalud (Enlace de video de YouTube)

This is a good overview of the process of having a telehealth visit, created by the Hawaii State Department of Health Genomics Section - also in Spanish!
---
This tip sheet offers pediatric and adult clinicians sample content that can be used to facilitate a "warm handoff" to adult care as well as a sample resource for the transferring young adult that explains the telehealth visit.
---
Family Voices Telehealth Information
Family Voices National has created several resources that can be found on their website including these short webinars for telehealth basics: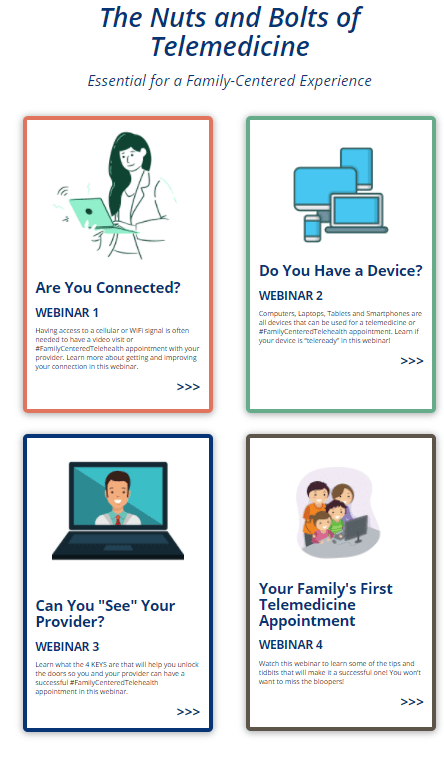 Oral Care and the Transition to Adulthood
Oral Care and Transitioning to Adulthood

This is a lunch and learn IPUL did on May 26, 2021 with Angela Lindig and Stephanie Walters on the topic of Oral Care for children with special healthcare needs in Idaho.
Some of the barriers that families with children and youth with special health needs are facing include:
Not being able to find a dentist that will accept Idaho Medicaid (families are hearing that Medicaid requires more documentation and denies claims more often that other insurances)
Dentists that accept Idaho Medicaid are not accepting new patients
Dentists don't have the training or experience in handling children and youth with special health needs, their diagnosis or needs (things like how the medications they take effect their dental health, how to provide comprehensive care like needing to do dental treatment under anesthesia, the struggles families face trying in taking care of their children's dental needs (oral aversion, refusal to brush teeth, not being provided the resources and adaptive equipment to manage their child's dental health)
Having to travel long distances to obtain dental care for their special health needs child (Primary Children's Hospital, UT and Spokane)
Being denied orthodontic services that are medically necessary
Transition to adulthood (the challenges that families with children and youth face are even more difficult when they must transition from a pediatric dentistry provider to someone who will accept adult Medicaid)
Resources for families that were discussed included:
Idaho Smiles program – https://www.mcnaid.net/en/home/

Idaho Department of Health and Welfare Dental page
A Provider locater tool that was recently updated on the Idaho Smiles webpage that indicates dental providers who treat special needs
Member Services as a resource to provide assistance and stay on the phone to ensure that families are provided with excellent customer service and scheduled an appointment with a provider
If Member Services is unable to provide an acceptable connection, then a Idaho Smiles Case Manager would get involved
Idaho Smiles is accustomed to working with primary and secondary insurance scenarios (primary private dental insurance with secondary Medicaid (Katie Beckett)
Idaho Smiles emphasizes network development for providers that are not currently enrolled with Idaho Smiles (for example, if a provider accepts Delta Dental but is not enrolled as an Idaho Smiles provider, Member Services attempts to have that provider enroll and support them through the process to increase the number of Idaho Smiles providers throughout the state)
Idaho Smiles offers/provides case management services to any member identified with special needs; this is an elective program, not required; they have to obtain consent and will assist to ensure that member is able to obtain dental services that meets the member's needs
Case management is available for pregnant women and special needs adults and children
Idaho Smiles will assist pediatric dental providers to continue to work with their patients as they transition to adulthood or help the member connect with a dental provider who provides adult care
Idaho Smiles works closely with Dr. Brooke Fukuoka who advocates for expanded access for dental care for adults with special needs; she created an organization that trains dental providers in Idaho to work with patients with special needs; she provides education to dental providers through a HRSA grant; she works out of a FQHC; she works with a special model to train dental providers; has hospital privileges; sees adult special needs patients in special care facilities; she has a website Your Special Smiles PLLC with education/resources for dental providers in working with special needs population; she provides portable dentistry
Orthodontic care is determined by medical necessity based on specific criteria adopted by administrative code; dental providers can request prior authorization of services as long as the orthodontic work has not already been started; can appeal decisions and provide additional information for review; Idaho Smiles allows for an orthodontic screen once a year as a benefit under the children's program; dental providers can continue to submit prior authorizations as the child grows as a large majority of the denials for orthodontic treatment is based on requesting services prior to necessary growth of child
Part of a general dentist's education and dental residency should cover special needs training but if not they have resources and work with their Dental Director and Executive Director to provide outreach and training
Idaho currently has 45% of dental provider population that services Idaho Medicaid population
Idaho Smiles Case Managers provide a dental health assessment, identify needs (such as transportation, translation, difficulty accessing care) and will provide services to the member as long as eligible and family requests services
Idaho Smiles also has a Member Advocate available to assist